UIDAI is mandated to issue an easily verifiable 12 digit random number as Unique Identity – Aadhaar to all Residents of India.
Aadhaar number is a 12-digit random number issued by the UIDAI ("Authority") to the residents of India after satisfying the verification process laid down by the Authority. Any individual, irrespective of age and gender, who is a resident of India, may voluntarily enroll to obtain Aadhaar number. A person willing to enroll has to provide minimal demographic and biometric information during the enrolment process which is totally free of cost. An individual needs to enroll for Aadhaar only once and after de-duplication, only one Aadhaar shall be generated, as the uniqueness is achieved through the process of demographic and biometric de-duplication.
Importance of Aadhaar in India
Right now even if its official not admitted that Aaadhaar is a universally required document in India; as also told by the Supreme court that Aadhar cannot be forced; yet the truth is vastly different. Without an Aadhar Card you will run into a lot of problems in reality, and almost everywhere; Aadhar Card is required.
Guide to Update Your Aadhaar Card Online
The Aadhaar program was introduced back in 2009. Since then, a lot may have changed; you may have gotten married (changed surnames), moved to a different city or locality or even lost or changed your mobile number.
Earlier it was quite hard to change details as there weren't many update centers. However as with progress with time; now the program lets Aadhaar holders update their information online.
This can be done by visiting the Aaddhar update website; and by going to a process where you will be asked to select the information which is needed to be updated, and then by replacing it with correct data; and asserting it with required documents for validation.
In this article, you will find the information and a walkthrough guide on how you can update your Aadhaar Card online easily.
I've also pointed out the requirements and any other additional information that might be helpful.
Recently, I wanted to change my address details on my aadhaar card, and I completed the whole process online by visiting the website of UIDAI. It just took a few minutes and updating the information was relatively very easy.
If you want to update your latest details on your Aadhaar card at the comfort of your home, here's what you will need:
Your Aadhaar Card Details
A laptop or desktop
A working internet connection
A Scanner or scanning app or A mobile phone; You will need this to capture the pictures of documents. However, if you have the documents saved in a digitial form already; you don't require this.
Your registered mobile number; You will require this to receive an OTP. This is important as without OTP you cant possibly update your information online, and you will have to either visit an Aadhaar Update Center or sending a post to get your data updated. The good thing is most cities, towns, and villages throughout India; now have an Aadhaar Update Center.
---
Cases where you might want to change the aadhaar details:
Your address might have changed after your aadhaar card was made.

In case of name change after marriage in case of female


Your mobile number or email id is changed.

You have changed your name, or your name was wrongly captured at the time when you applied for Aadhaar card.

By mistake, your gender or date of birth was wrongly captured.

Any other reason.
Note: You will need your registered number to Receive a One Time Password (OTP) on your phone to be able to edit the information.
---
Steps To Update Your Aadhaar Card Details Online
Aadhaar data can be updated in Uidai Government website; follow this procedure.
Go to

 this website: 

https://ssup.uidai.gov.in/update

Enter your Aadhaar card number and text verification code to generate the OTP.

Enter your OTP and then on the next screen choose the details you want to change.

Enter the details which you want to change and then proceed to upload the documents.

Choose the supporting document which you want to upload. Make sure the document is self-attested and signed by you and scanned back.

Note down the UTR number which can be used later to check the status.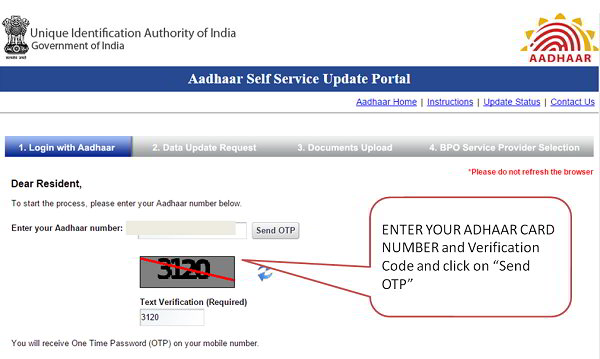 ---
How to Check the status of your Aadhaar change?
Once you have submitted the change request, you will get a UTR (Unique request number), which can be used later to check the status of the change. Here is how you check the status later!
Enter your Aadhaar card number and the UTR number (without slashes)

You will get the status. It might be awaiting approval or might have approved already in which case you can then download your new aadhaar card online and start using it.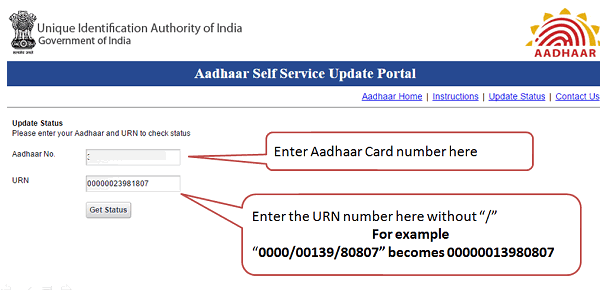 ---
How to download your new Aadhaar

 

card after the update is complete?
Choose the option to enter your aadhaar card and enter all details

Generate the OTP and enter that to proceed

A PDF will get downloaded which can be opened by entered your pin code as the passport

You can now start using this new Aadhaar card by taking a color photocopy.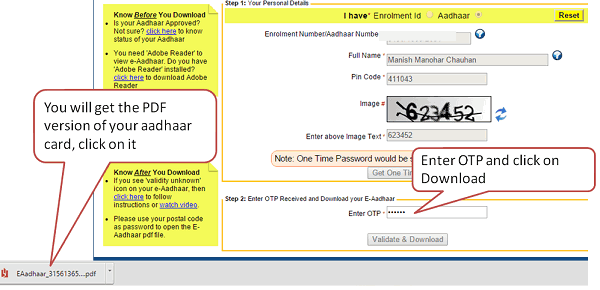 ---
Why You Should Update Your Aadhaar Card
Updating your Aadhaar card is important because the card could replace your regular debit or credit cards very soon.
Plus having your data updated will save you from many upcoming changes in future.
The Aadhaar Enabled Payments System (AEPS) is currently in its initial stages. You can use your Aadhaar card to authorize payments that will require your biometrics – fingerprint and Iris scan.
As the nation shifts towards a cashless economy, it is important that you link your updated Aadhaar Card with your bank account.
---
I hope this guide was clear and easy for you to follow. The process to update Aadhaar card details it just takes a few minutes. If you come across any problems while updating; just ask for help in the comment section below; I will be glad to help.
Also, do not forget to share this article with your friend's circle; it might be useful to them too.
---
Note: If you have not aligned your mobile number with your Aadhaar number. You can't update your mobile number. First, you have to register your number.